When Women Pray 2016…
Thanks to everyone who participated in our 7th Annual Women's Prayer Breakfast! Our largest event, with nearly 800 women, proved to be a true inspiration and blessing for us all.
Special thanks to our beautiful choir and our gifted speaker, Jackie Francois Angel, and to all of our hardworking volunteers and generous sponsors and our Parish Priests and staff who helped make this joyful day possible.
Please continue to share your comments and your prayer requests with us, and join us for future prayer events. Check our event and prayer resources pages.  As always, we appreciate your continued support through prayers and donations, as well as your support of our sponsors by utilizing their businesses.
May God bless you!
7th Annual Women's Prayer Breakfast
"Mercy Transforms"
Saturday, Oct. 8th, 2016 8 am – 1 pm

Featuring Jackie Francois Angel
Singer/Songwriter, Inspirational Speaker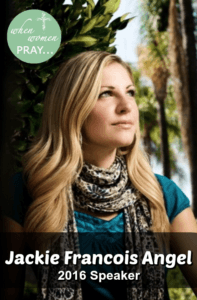 Jackie Francois Angel is a Catholic speaker, worship leader, recording artist, and author from Orange County, California. In the last 9 years of doing full-time ministry, she has traveled to over 40 states and 15 countries speaking and singing about God's love to all ages, but has a special passion for youth events and women's ministries. She released her first original music album through OCP/Spirit & Song titled "Your Kingdom is Glorious" in 2008 and her sophomore album,"Divine Comedy" produced by grammy-nominated Ed Cash (Chris Tomlin, Kari Jobe), Scott Cash, and Christian artist Robbie Seay, in Spring 2012. Jackie recently contributed as an author to Matthew Kelly's latest book, Beautiful Mercy, and is co-authoring a book with her husband Bobby Angel for married couples through Pauline Press.
Jackie's speaking engagements have included speaking at the National March for Life Youth Rally in DC, World Youth Day 2011 in Madrid, and the National Catholic Youth Conference. She has been a TV show webcast host for "The Commons"; on Catholic TV and appeared on EWTN, National Catholic Register, and Sirius/XM's "Busted Halo" on the Catholic Channel.  Jackie currently resides in Southern California with her husband, Bobby, and their two young daughters.