We are looking forward to seeing you at
When Women PRAY…
8th Annual Women's Prayer Breakfast
 "Works of Love Are Works of Peace"
Saturday, Oct. 7th, 2017 8 am – 1 pm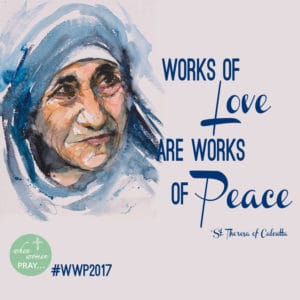 Join us for an inspiring, Spirit-led morning of prayer, scripture, song, reflection, friendship, tears and laughter
at St. Thomas More Church
51 Marketplace, Irvine 92602
Featuring music missionary and recording artist
Danielle Rose
When Women PRAY… hosts this powerful and growing women's spiritual event each year, which draws a broad and diverse group of nearly 800 women of all ages from Southern California.
The 8th annual When Women Pray… will be held Saturday, October 7th, 2017 from 8:00 am – 1:00 pm at St. Thomas More Catholic Parish in Irvine.  
Our theme for the day, "Works of Love Are Works of Peace," is inspired by the life and prayers of Saint Teresa of Calcutta, known and beloved by most of the world as Mother Teresa.
This year, we are partnering with Joanie's Purse Project to brighten the holidays for struggling women. Please check your closets and bring any medium to large new or gently used empty purses. For each purse you donate, you will receive one ticket entering you in a special opportunity drawing for a beautiful new purse!
We are also looking for unused sample or travel sized personal care items (see list). We will collect both purses and personal items in bins in front of registration the morning of the prayer breakfast.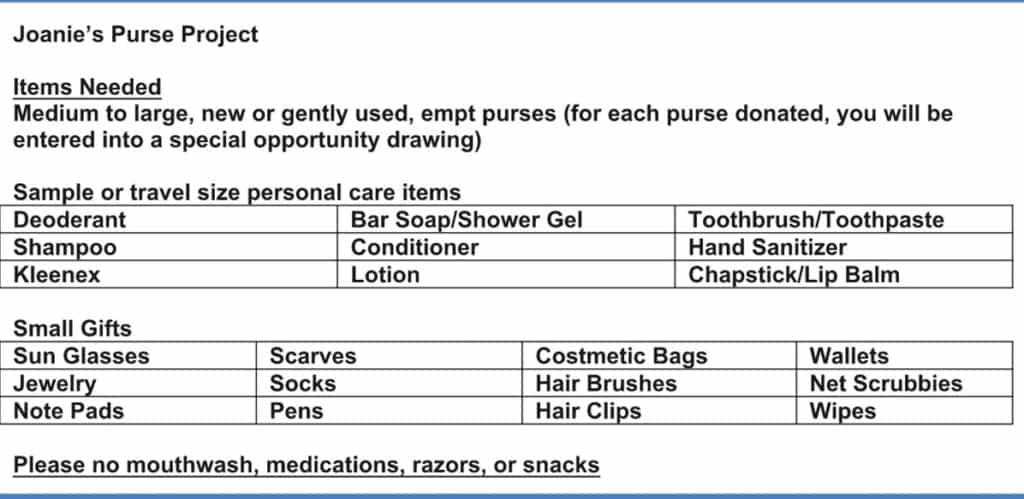 When Women Pray… is free and we welcome women of all faiths, but space is limited.  Click here to register today!
---
Featured Speaker: Danielle Rose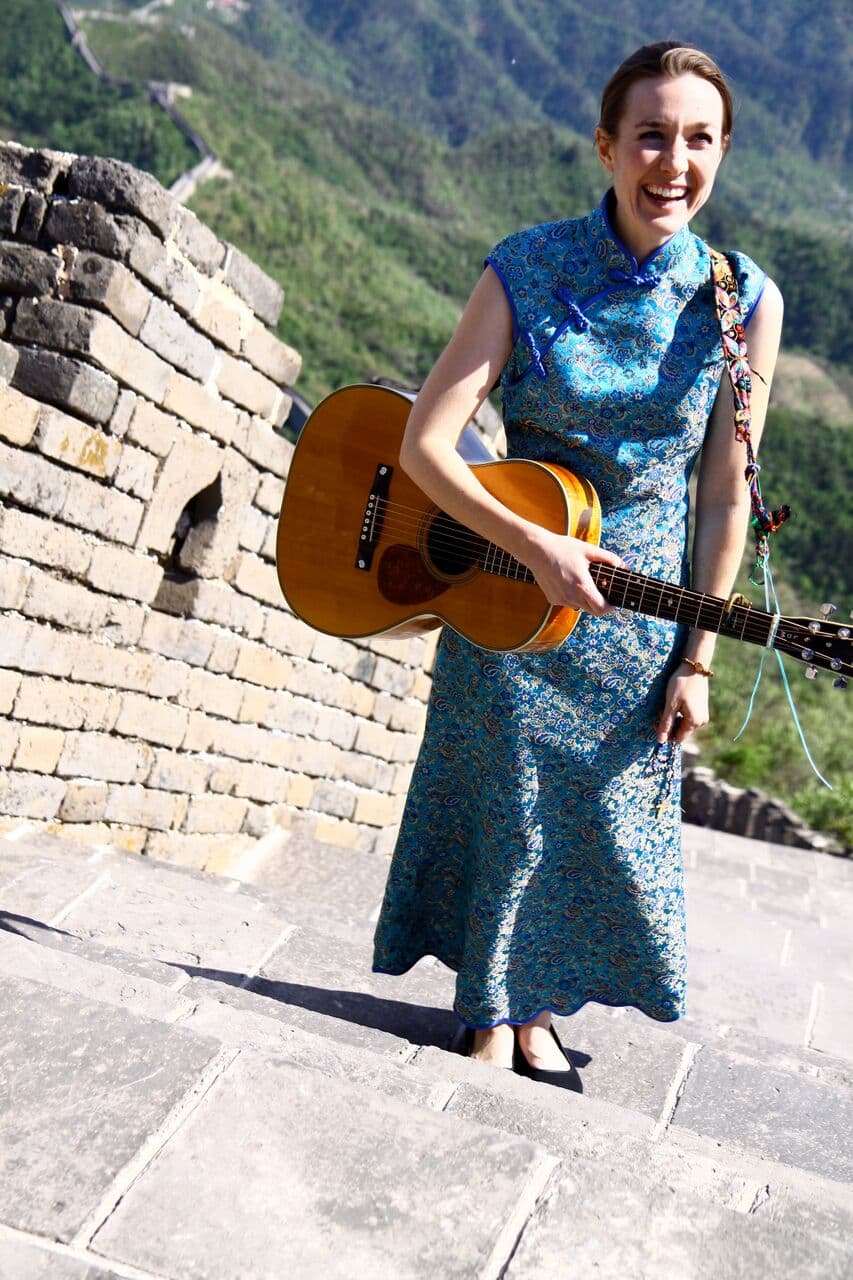 Danielle Rose is a music missionary who has traveled the globe spreading the Gospel through a joyful witness of story and song.
At the age of 17, Danielle traveled to Delhi, India to volunteer with Mother Teresa's Missionaries of Charity.  This experience prompted her desire to serve the poorest of the poor by offering her gift of music as a means of alleviating spiritual poverty in America.
In 2004, Danielle received the personal blessing of Saint John Paul II when she presented him with her second album, "Mysteries." Seeking to know God's will for her vocation, Danielle set aside her musical career to spend two years in communal and silent prayer listening to God, free from the distractions of contemporary living in the convent.  This experience led her to discover and embrace her vocation of marriage and later motherhood.  Danielle desires to help build an authentic culture of life that nourishes and cherishes the gift of each person created in the image and likeness of God.
Danielle has shared the scope and depth of her artistry and her faith through her 5 albums: "Defining Beauty"(2001), "Mysteries" (2003), "I Thirst" (2007), "Pursue Me" (2009) and "Culture of Life" (2013).   Her third album, "I Thirst," inspired by the life and example of Mother Teresa, urges us to turn toward Jesus, the source and summit of our faith.
Danielle has shared her story and music at events around the globe from World Youth Days, to the National Conference of Catholic Youth Ministry, and the National Association of Pastoral Musicians Conference, to diocesan events such as the Los Angeles Religious Education Congress, and at the parish level through a Day of Reflection and Musical Rosary.
Danielle currently resides in Duluth, MN with her husband, Mitchell, and their two young daughters.
Day's Agenda:
| | |
| --- | --- |
| 7:00 am | Check in starts at 7:00.  Arrive early to park and check in. |
| 8:00 am | The morning starts at 8:00 with Our Holy Mass, followed by Praying of the Rosary.   |
| 9:15 am | A light breakfast will be served on the lawn.  Opportunity baskets will be on display. |
| 10:00 am | Return to the Worship Center for Prayer, Music, Scripture, Reflection and our featured guest Danielle Rose |
| 1:00 pm | Final prayers and close |
Bring a friend or meet new ones.  Join us as we lift our voices in prayer and song for ourselves, our families, our communities, our nation and our world.
A few tips to help make your experience even better: 
Please come early, we are expecting over 800 women and want to make sure everyone has time to check in. Consider carpooling as parking will fill up.

Print and bring your "registration ticket".

Registration opens at 7:00 am and Mass starts promptly at 8:00 am, followed by the Rosary, breakfast, music and prayer, and our inspiring guest speaker, Danielle Rose.  See our website for a detailed schedule.

A light breakfast will be served outside at tables on the grass, (patio seating will be available for those who may need assistance). The weather can be cool in the morning and very sunny by breakfast, so dress for comfort. 

As always, attendance is free. Donations are very much appreciated so that we can continue to offer this morning to all women. 

Our very popular opportunity baskets will be on display with a drawing during the event. Opportunity tickets will be available during the event.
WWP t-shirts will also be available for a suggested donation of $20 and Danielle Rose will have CDs and rosary bracelets available for purchase.

We will collect purses and unused sample or travel-sized personal items for Joanie's Purse Project in bins in front of registration.  See above for a list

of appropriate items.  
Get your name in front of 800 Irvine/OC women!!
There is no charge for the event, however, we would appreciate any monetary donation to help defray costs or gifts-in-kind for our opportunity table.  (link to sponsor/get involved page.)  All our sponsors will be featured in our program, on our website and on the overhead and posters during the event.  See the sponsor page for more information.