REGISTER NOW!
When Women Pray 2016…
7th Annual Women's Prayer Breakfast
October

8

, 2016
8am – 1pm
To volunteer, click here to submit your contact information.
"All aspects deeply touched my heart…Thank you with all my heart…I love this event! Perfect! God bless you!"
"I couldn't stop crying – tears of joy, tears of sadness, tears of love – thank you to all – I am leaving with hope!"
"Seeing Christ's body at work. Beautiful prayer time. Loved the speaker, music, gorgeous baskets, such warmth among the team extended to us all."
"Best retreat I've ever attended… Today I found happiness & joy!"
"Deeply touched my heart"
"A surprise-filled spiritual experience"
"The best morning of the year"
When Women Pray (WWP)...is a Catholic ministry connecting women of Southern California to their faith and each other through Prayer and Fellowship.
Each year, When Women Pray… hosts an inspiring, Spirit-led morning of prayer, scripture, song, reflection, friendship, laughter and sometimes tears, that:
Engages and refreshes each woman's spirit and makes them feel cherished and unconditionally loved for who they are
Re-affirms women's connection to their faith and each other
Brings together women of all ages to lift their voices together in prayer and song for themselves, their families, their communities, the nation and the world
Creates a tremendous opportunity to open our arms and bring hope and healing to women in our community through a unique and inspiring Catholic experience
Register Now for
When Women Pray…2016
When Women PRAY… invites all women to our
7th Annual Women's Prayer Breakfast
"Mercy Transforms"
on Saturday, Oct. 8th, 2016 8 am – 1 pm
at St. Thomas More Church in Irvine
Featuring Jackie Francois Angel
Singer/Songwriter, Inspirational Speaker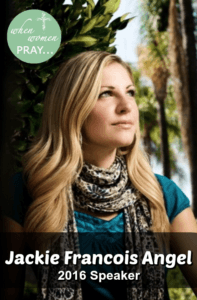 Join us for an inspiring, Spirit-led morning of prayer, scripture, song, reflection, friendship, tears and laughter. Attendance is free, but space is limited. Also volunteers are still needed.
May God bless you!
Register Now
Please submit your intentions below and we will lift them up in prayer.
Submit Your Prayer Intentions
---
Hear what women have to say about past When Women Pray… events
---
WWP 2015
WWP 2014
WWP 2013
(Thank You to St. Thomas More parishioner, Josh Baker, for producing these videos for When Women Pray…)
Interested in Sponsorships?
Get your name in front of 800 Irvine/OC women!!
All women are invited to attend this Spirit-filled event each year at no-charge, thanks in large part to sponsors like you.
Become A Sponsor
Interested in Volunteering?
Volunteers are always welcome. If you are interested in volunteering for WWP 2016, please submit your contact information to be added to our volunteer mailing list. We will be in touch! Thank you!
WWP 2016 on Social Media
Share your prayer intentions with us on social media. Tag your intentions with #HearOurPrayers and #WWP2016 
Featured Speakers and Photos from Past When Women Pray… Events